Top notch cancer care close to home
In affiliation with Roswell Park Comprehensive Care Center
Patients don't have to travel far from home to get the best in cancer care. We've proudly partnered with Roswell Park Comprehensive Care Center so that our patients can receive expert treatment right here in Olean. The radiation oncologists at Mildred Milliman Radiation Medicine Center consult with Roswell Park's cancer team in real-time using advanced teleconferencing. Accredited by the American College of Radiology and equipped with a Varian Linear Accelerator, patients receive the same level of radiation medicine as patients at Roswell. A Computed Tomography (CT) Simulator is onsite for treatment planning. State-of-the-art radiation therapy is available for prostate, breast, head and neck, lung, colorectal, skin and brain tumors.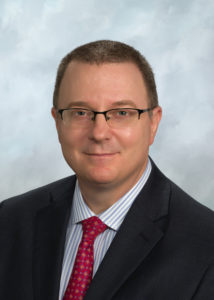 The Mildred Milliman Radiation Medicine Center has the region's only full-time radiation oncologist, Dr. Gregory Hare. Dr. Hare is board certified in radiation oncology and serves as the center's Director of Radiation Medicine. He's also an Assistant Professor in the Department of Radiation Medicine at Roswell Park Comprehensive Cancer Center.
For expert cancer care close to home, turn to Dr. Hare and the experts at Mildred Milliman Radiation Medicine Center. Schedule an appointment today.
Radiation services include:
Intensity Modulated Radiation Therapy (IMRT)
Volume Arc Therapy (VMAT)/Rapid Arc
Image Guided Radiation Therapy (IGRT)
Cone Beam CT Scan (CBCT)
Kilovoltage (KV) Imaging
Respiratory Gating
To make an appointment at the Mildred Milliman Radiation Medicine Center, call 716.373.7134 or fill out the form below and we'll be in touch with you soon.